Roswell River Landing Wedding - Roswell, Georgia - Hannah + Anthony
In May of this year, I had the coolest opportunity to work with Nathalia Frykman. We've known each other (or at least, known OF each other) for years for years through the photography industry (specifically after attending Vic Bonvicini's Reset to Rise workshop in 2017). Nathalia worked alongside me in March shooting Susan + Brett's Historic Savannah Wedding. This time, I got to return the favor and photograph Hannah and Anthony's summer wedding at Roswell River Landing with her! Nathalia and I both absolutely love to travel, and we share similar priorities when it comes to photographing a wedding day: telling the story as it unfolds, making sure the couple feels comfortable and has a great time, and not putting every couple into one-size-fits-all poses. Before going over to Roswell River Landing, I got to hang out with the groom + his buddies over at the Doubletree Hotel nearby (it had a pool, where the guys swam + chilled in the morning, and it was super convenient to the wedding venue). I loved documenting a few special moments he had with friends from childhood, from college, and of course his brother.
Hannah + Anthony had such a love-filled, gorgeous Summer wedding at Roswell River Landing. This riverfront venue is located in a popular suburb of Atlanta, about 20 minutes from downtown Atlanta, or about an hour from Hartsfield-Jackson Airport! From the hotel, we went to Roswell River Landing. This hybrid indoor/outdoor venue is located right on the Chattahoochee River -- better known as "The Hooch" to Georgians. While there are no rumored aliens at this particular "Roswell," on a hot summer day you are 100% sure to see a UFO on the 'hooch... that is, an unidentified FLOATING object (usually a sunburnt person playing country music and drinking beer). On a hot day like that - 99 degrees with 90+ percent humidity - there's really nothing better than sitting your butt in an inner tube and floating down the river — it's what Georgians call "Shootin the Hooch". Half the bridal party was strongly considering joining the floaters until the sun went down!
The smaller lower dock was an amazing spot for a first look. We waited for the cheering, jubilant floaters to pass and then we got in position. Nathalia was level with the couple, while I shot from a hillside to capture the action from a different vantage point. This is a serious perk to having a second shooter - being able to get different reactions and compositions from the exact same moment! I found this angle beautifully framed by lush tree branches, perfectly exposing the part of the dock where the first look was going to take place! Even from a distance it's clear to see what a lovely moment the two shared before the ceremony.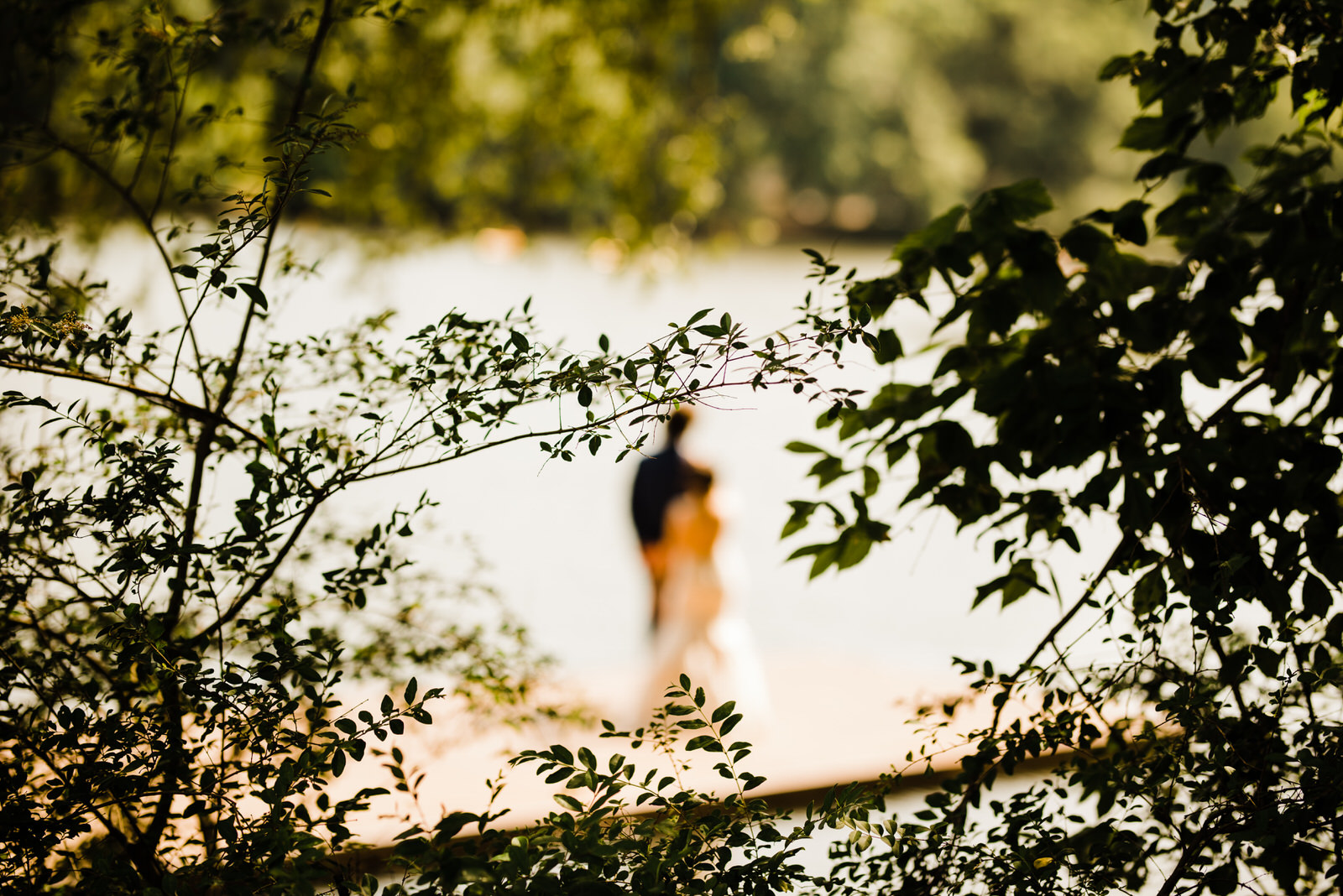 Hannah + Anthony's wedding really reflected warm, summery tones like these gorgeous blush pink and dark pink roses, gold napkins, pops of white and plenty of greenery.
Here are a few of my favorite photos from before the ceremony!
The ceremony was held on the large dock closer to the building, which sat about 100 guests. A close friend, Doug, officiated the ceremony. He had been a friend to both Hannah and Anthony over the years, and they both said throughout the day just how much he felt like family. Hannah's mom even wanted photos with Doug! It was clear how much he meant to the couple, and how much they meant to him. The ceremony he crafted really conveyed so much of their relationship and their beautiful story! The bridesmaids wore different styles of a lightweight, floor-length sky blue dress. I loved the way Hannah's Maid of Honor/ Sister rocked it with a full on baby bump! Groomsmen wore a grey suit that was perfect for summer. One particular detail I loved was the groomsmen's boutonnieres, which incorporated a fishing lure in honor of one of Anthony's brothers, who had passed away.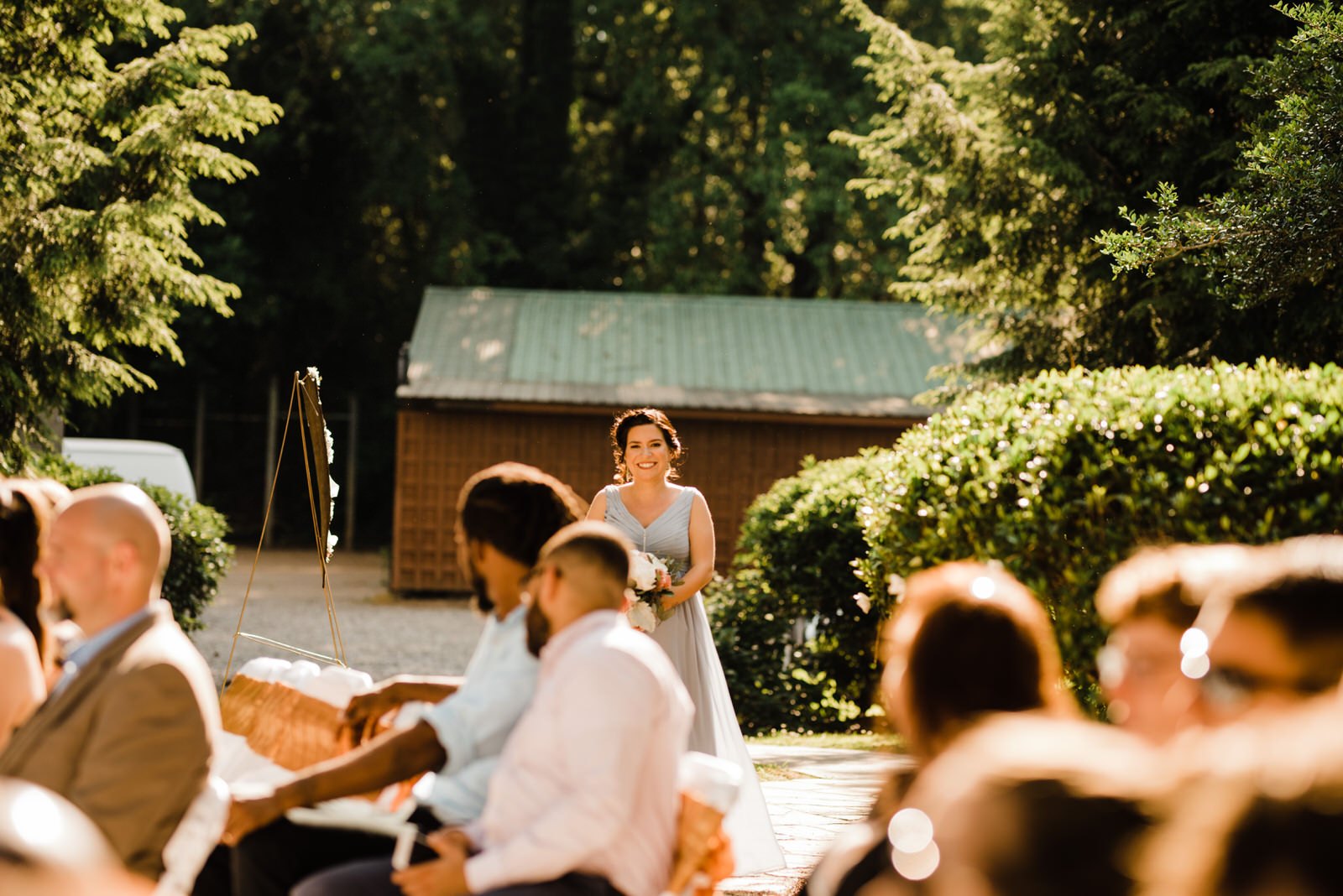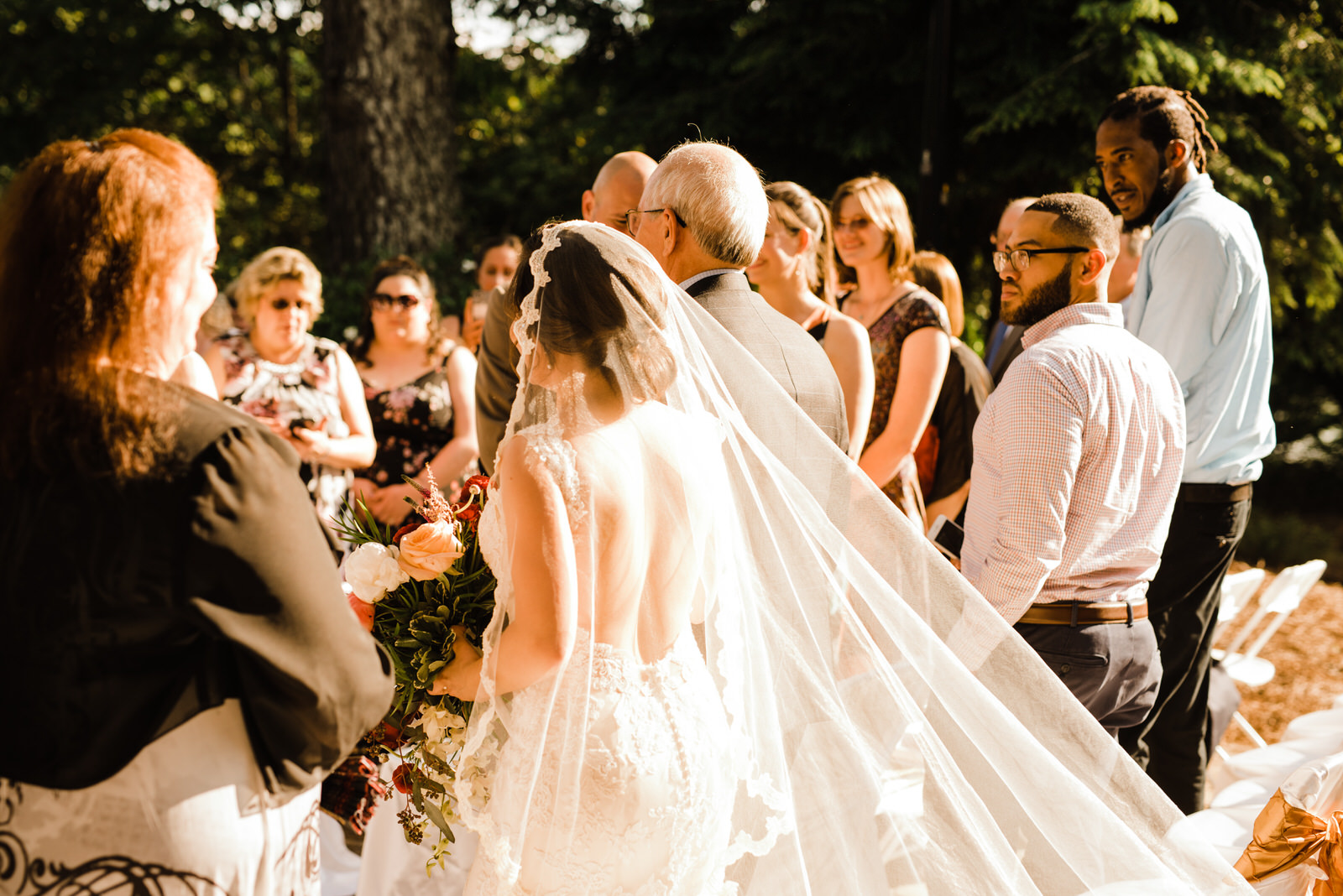 After the ceremony, we took Hannah and Anthony back down to the dock for some portraits by the water!
The reception was a total hit! I loved the ceiling details at Roswell River Landing - the string lights in combination with the colorful reception lighting really came together for a romantic and energetic evening. My favorite moments of the reception though were without a doubt 1. When Buda danced with his childhood dog 2. This "Magic Mike" moment and 3. Capturing Hannah's parents grooving on the dancefloor!
I had such a wonderful time getting to photograph Hannah and Anthony's Roswell, Georgia wedding. Roswell River Landing was a great venue if you're looking for a riverfront ceremony surrounded by lush trees and all nature has to offer. The indoor part of the venue felt slightly dated on first appearances, but after entering it's clear that it has so much room for customization for every couple! And besides, where else can you get a view like this?!