Adventurous LA Engagement Session - Los Angeles, CA - Jacob and Michelle
I was so excited a few months ago when Jacob and Michelle reached out to me to talk about doing their engagement photos! They live in Long Beach, but we connected through instagram, where Jacob found me, and soon after we set up a phone call. Just a few minutes into our conversation, it was pretty clear that we clicked! The three of us set up a plan to meet for drinks at an East Hollywood bar called the Know Where (the art deco theme is super cute, so check it out if you're around that way) and set up an adventurous engagement shoot in Bronson Canyon to follow.
Whenever I'm shooting, I'm always looking for spots that have a lot of variety. I want to get several different spots wrapped up in one location. I loved that Bronson Canyon had a sort of field, trails, wildflowers, and rocks. It's a spot that I actually scouted on a morning hike - I like to alternate between the trails of Griffith Park, Bronson Canyon, and the Angeles Forest. I'd shot a little behind-the-scenes video of a scouting/hiking day and that's how Jacob knew it was the right spot!!! The terrain isn't super rough, but it's adventurous enough to feel far away from Los Angeles!
When the day rolled around, the two expressed how anxious they were to be in front of the camera, and how they'd accidentally forgotten some of their outfit choices back home. Despite how extroverted I may come across, I'm an introvert at heart! This helps when talking to introverted couples because I feel like we're speaking the same language. The way I sort of frame it is this: I want you two to have great photos, but I want you to have a great time, too! On my website you'll see photos that feel natural and candid -- but that couple didn't necessarily step in front of my camera and feel that way at the start! Many of the couples I work with warn me ahead of time "We're so awkward! We've never done this before!" But let me just tell you, you're in good company! I rarely ever work with people who have actually had professional photos taken before (unless you count the family photo at JCPenny Studios from when you were eight). Capturing those authentic images takes a little bit of time, comfort, and trust. I work hard to create an experience that actually allows your true personalities to shine so things don't feel forced. The first 10-15 minutes are always a little awkward, but I'll guide you through a careful combo of corny dad jokes (seriously, sometimes they're pretty a-maize-ing) and instructions to achieve photos that feel natural but also are carefully composed.
We headed over to Bronson Canyon for our adventurous engagement shoot, and decided on a few outfits to include in the session! I always send tips for selecting outfits, and then recommend bringing a few to swap out during the shoot. We started off with a more casual vibe that was giving me hardcore Pearl Harbor vibes! Michelle wore bright red lipstick, which made the flowers in Jacob's Hawaiian shirt really pop, and curled hair with a white crop top and dark blue jeans. Together they looked straight out of a movie! This look was very classic - like the embodiment of "American Summer." We began a short hike and started shooting. Within just a few minutes we were all laughing like crazy, like old friends!
The different environments definitely help give it a unique vibe! Jacob and Michelle brought a handmade blanket by his grandmother to sit on for part of the session too, which I absolutely loved. Bringing an item like this is so personal and unique, and really tells part of your story!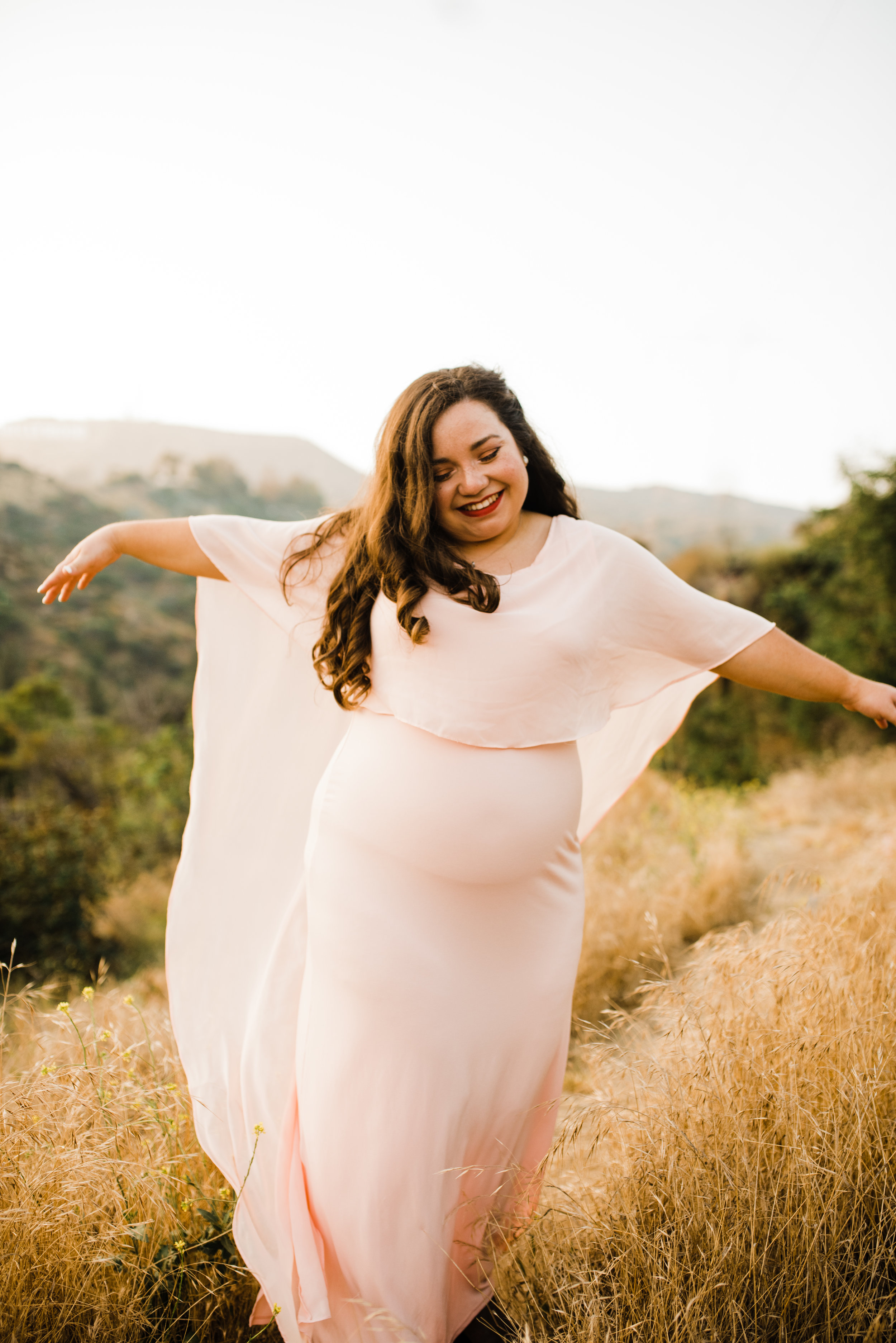 For their second outfit, they changed into something a little more formal. Michelle wore this caped gown that I thought was SO rad - it definitely had a glamourous air about it. Here's one kind of like it on amazon and I love this white one from Nordstrom Rack - it would be perfect for an engagement party! For a brighter pop of pink check this one out too! These gowns have this beautiful Hollywood Glam feel and I jus can't get enough! Even though it wasn't quite as planned, Jacob's shirt worked out great - Michelle even pointed out that it was meant to be, because it's the same blue they'll be using in their flowers next year at their wedding! His suit and shoes added the perfect balance of formality and I absolutely love the overall look between the Jacob + Michelle.
We explored the area a little more, getting shots of them interacting naturally, walking, dancing -- all of it! I'm all about motion in my photos, because I think it helps keep people present + in tune with each other throughout the shoot. I absolutely love the way this session turned out and I can't wait to shoot Jacob + Michelle's wedding next year! They've shown me a few photos from their moodboard and I'm seriously sitting on the edge of my seat just thinking about it. The venue is classic and romantic, there will be tons of bright, beautiful colors, and if Jacob and Michelle's family are anywhere near as wonderful and lovely as they are, it's going to be the most incredible day.
If you liked reading about this engagement session, check out these engagement sessions too! If you're engaged and don't even know where to start when it comes to planning an engagement session, contact me today - I love sharing ideas on outfits, locations, and when to shoot them for your overall wedding planning (save the dates and invitations).